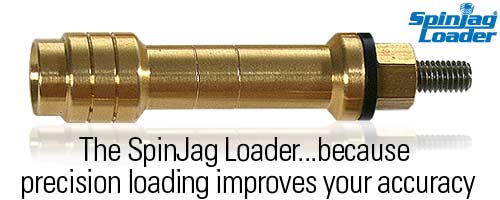 Unique, free-spinning tool
follows rifling improving loading
for more accurate shooting
Spins with the bullet easing the loading pressure minimizing damage to the bullet or sabot.
Accepts many bullet shapes.
Centers bullet in bore.
Rear guide keeps tool aligned and helps center bullet in bore.
So what is the difference between
the Original SpinJag and the SpinJag Loader?
The Original SpinJag was designed to load AND clean so the clearance between the barrel and tool is large enough to accommodate a cleaning patch.
The SpinJag Loader has minimum clearance (no room for a patch) and is used only for loading and seating the bullet. The closer fit ensures precise loading as the bullet travels down the barrel.
Both tools use the patented free spinning design that allow the bullet and jag to spin with the rifling, easing loading pressure on the bullet.

| | | |
| --- | --- | --- |
| | | Picture shows how the SpinJag Loader easily accepts the new, long polymer-tipped bullets. |
| | | Cutaway of barrel shows how the minimum clearance keeps the SpinJag Loader straight as possible in both front and back, ensuring straight precision loading and seating of bullet. |
The SpinJag Loader is available in the following calibers:


.32, .36, .40, .45, .50, .52, .54

.32, .36, .40 cal fits 8/32 threads
.45, .50, .52, .54 cal fits 10/32 threads
The SpinJag Family Of Tools...
---




SpinJag Loader




Minimum Clearance For Even More Precise, Consistent Loading And Seating Of Bullet

32, .36, .40, .45, .50, .52, and .54 calibers available




FREE SHIPPING on orders of $99 or more





The Original SpinJag




Consistently Loads A Variety Of Projectiles And Also Cleans Barrel

.32, .36, .40, .45, .50, .52, .54 and .58 caliber available




FREE SHIPPING on orders of $99 or more



SpinJag Bullet Starter




The First Step In Smoother, Easier More Precise Loading

.45, .50, .52, .54 calibers available
FREE SHIPPING on orders of $99 or more