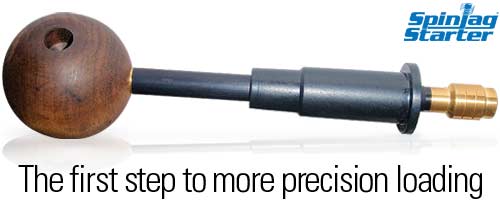 The SpinJag Bullet Starter
makes loading your muzzleloader easier, smoother and more precise
We designed the SpinJag Bullet Starter to give you an edge when loading your muzzleloader. Using the patented SpinJag Loader, this short ramrod and guide will gently start the bullet into the bore, reducing marring and keeping the bullet aligned. Follow it up using your regular ramrod and the Original SpinJag or SpinJag Loader and you are assured of more consistent precision loading.
Six simple steps to use the SpinJag Bullet Starter:
Place the bullet in the barrel.
Slide the polymer guide over the bullet.
Hold firmly down and around the barrel and guide at the same time.
Slowly push down until wooden ball reaches polymer guide.
Follow up with the Original Spinjag or SpinJag Loader to finish loading.
The Starter also doubles as a "palm saver" with your regular ramrod.
Remember, precision loading is a vital step
to consistent accuracy when shooting muzzleloaders.
The SpinJag Bullet Starter is available in the following calibers:


.45 cal, .50 cal, .52 cal, .54 cal
The SpinJag Family Of Tools...
---



SpinJag Bullet Starter




The First Step In Smoother, Easier More Precise Loading

.45, .50, .52, .54 calibers available
FREE SHIPPING on orders of $99 or more





The Original SpinJag




Consistently Loads A Variety Of Projectiles And Also Cleans Barrel

.32, .36, .40, .45, .50, .52, .54 and .58 caliber available




FREE SHIPPING on orders of $99 or more




SpinJag Loader




Minimum Clearance For Even More Precise, Consistent Loading And Seating Of Bullet

32, .36, .40, .45, .50, .52, and .54 calibers available




FREE SHIPPING on orders of $99 or more