Outdoor Writer Recommending SpinJag For Many Years To Come
After seeing the SpinJag line-up and meeting the fine folks at SpinJag this year at the Virginia Outdoor Sportsman Show , I knew these were some products I had to add to my muzzleloading accessories.
After ordering my SpinJag acc. I couldn't wait to get them and lucky for me it didn't take long. After opening the package and realizing that I had screwed up while measuring my ramrod (I measured with the jag on it) I made a phone call and explained the problem and was told not to worry they would send the right one out, well 2 days later the right one was at my door.
Well off to the range I went and if I had not done it myself I would not have believed it but my groups after several shots were staying alot tighter than with the jag that came with the gun because the SpinJag spins while loading.
So in conclusion between the SpinJag performing as advertised and top notch customer service I will be using and recommending SpinJag for many years to come.
Jim Draper - Jim Draper Outdoors
---
C.O.O. of Primos Recommends SpinJag For Loading & Cleaning

I have really enjoyed using the Spin Jag and have found it to be very useful in a variety of ways. I keep it in my Possible bag to attach to my ramrod for loading bullets. It is also a great tool for cleaning the barrel with wipes. I highly recommend this product.
Jimmy Primos - Chief Operating Officer Primos Hunting Calls
---
SpinJag Passes The Test For The Travelin' Hunter

Man, I just got in from a few hunting trips and wanted to say thank you for the Knight range rods that you converted with the SpinJag attached. They are awesome to use on the range. Actually it has created quite a stir at my range as several guys used them and wanted to get them on their range rods. Do you make some type of adapter to attach the SpinJag to our range rod or do they all have to be machined to fit? Either way, they work like no other!

Thank You!
Tony Smotherman - Travelin' Hunter Outdoors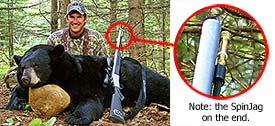 Here is a pic of the black bear I shot last week in Ontario, Canada. He tip the scales at 340lbs. You may notice the SpinJag on the end of the Knight Rolling Block. It works so good! Thanks!
---
Hunter Believes SpinJag Is Major Contributor
To Success In The Field


As I mentioned I have been using your products for several years & believe they are a major contributor for consistent loading and superior accuracy. I have attached a couple pictures of bucks that me & my brother have been fortunate to take this year.

Thanks again for your high quality products THAT WORK!
KS - Prince George
---
Success At The Range And On The Hunt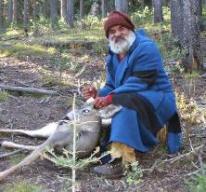 I recently purchased a .54 cal spin jag and fixed it to my ramrod. I'm quite impressed by it so far and it seems to work perfectly. I loaded about 15 rounds of Hornady's Great Plains conicals with it, as well as 8 Powerbelts, on the range and all 23 rounds flew down range perfectly. That is better success than using my old short starter. My muzz deer hunt ended with one shot this year, so next year I'll be using your spin jag again. Thanks for making such a nice product.
Wynn "Bears Butt" Zundel, Utah
---
Impressed With SpinJag After First Use At The Range
I received the original SpinJag yesterday and took it to the range immediately. I have always been disappointed in the groupings with the particular rifle I planned to try it with first to see if it would indeed improve the rifles accuracy. Let me say that I was more than impressed! I shot the finest group by far that I ever have with that particular rifle.I can say without a shadow of a doubt that your product was definitely the contributing factor to the improvement of the rifles accuracy. I love the fact that it serves double duty as a loading and cleaning aid, kudos to your design team. I will definitely be recommending your product to all my friends that shoot muzzleloaders.

Thanks for a great product.
CU - Mandan, ND
---
New Muzzleloader Shooter Likes SpinJag AND SpinJag Starter
Wanted to provide some field observations on your SpinJag and SpinJag Starter. Started muzzleloading this fall so I am not a highly experienced shooter. I shoot a Knight 0.50 Bighorn, factory 310 grain lead sabots, with #11 caps igniting 2x50 grain Pyrodex pellets. In my short experience, what I have observed is that;
a cleaning patch on your SpinJag slides much more easily as compared to Knight's.....cleaning _is_ easier
the SpinJag Starter is not only a handy way to load, but the starter rod extends the Knight ramrod making an adequately long cleaning rod
and, the wooden ball handle when detached makes a good ramrod base for pressing an unfired sabot load out into the breech (jag and ramrod in through muzzle, rifle butt up and muzzle down, apply slow careful downward pressure; don't know if this is an "approved" method, but it was the only way I could figure to get the critter out).
Have not shot it enough (and I may not be a good enough shot to tell the difference) to ascertain whether accuracy is improved by using the loader but it makes sense that within-group bullet variation would be reduced by decreasing loading variability. I'll take any help I can get in that department!
The only potential negative was that your SpinJag was shorter than Knight's and I initially wondered whether it would be long enough to adequately seat the sabot. One replication adequately tested that hypothesis. It worked just fine.
Bottom line; good strong useful equipment.
OH - Washington
---
NMLRA Shooter Competes With SpinJag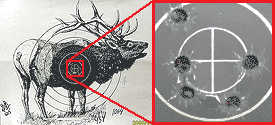 The image to the right shows a target shot by Sarah Lotts at the NMLRA Manufactures Match. Shot at 100 yards off of "Harris" Bipods using Triple Seven Powder and cast bullets. She cleaned between each shot using a SpinJag and Knight Cleaner.
Sarah Lotts - Photo is her target from the 2006 Spring National Shoot in Friendship Indiana.
---
Shooting Champion Is Convinced
After setting over 70 national records in my shooting career, I find the SpinJag to be one of the most unique and useful items to hit the market in years!
H. P. Gregory - Holds the record individual score in the NMLRA National Spring Shoot Manufacturers Competition which he has won 3 years in a row
---
Proper Bullet Alignment Is Crucial
I've used your product now for a couple years and I really like it. Proper alignment of the bullet in the bore is crucial to good accuracy. Helping to make the cleaning task easier will make the muzzleloading experience better for everyone. The SpinJag accomplishes both.
Bob Elka - Competition Shooter and Outdoor Sportsman
---
SpinJag Far Exceeds Expectations On The Range
This past weekend, I used your SpinJag and loading tool at the range. I used a variety of sabots, and the ease of loading and cleaning was amazing. The loading tool and SpinJag far exceeded my expectations. It also improved the accuracy in my already accurate rifle. I was forced to let some of the other shooters use these products, when they saw how good I was shooting.
The SpinJag and loading tool are the most useful items I have ever purchased for shooting. They worked better than advertised.
P.S. Every muzzleloader who wants better accuracy needs these items
Barry Grasser - Black Powder Sportsman
---
SpinJag "Hits The Mark" With Loading - A 100% Improvement
I finally have some free time to just sit down and write you on your product. I must say that I have used most of what is out there on the market for Black Powder. I have found your SpinJag hits the mark as far as loading consistency in producing great groups. ...with your SpinJag my groups have improved 100%. You just can't ask for more.
David E. Porter - Black Powder Sportsman
---
Never Before Achieved This Degree Of Accuracy
For the past two months I've worked with [ my muzzleloader ] using various smokeless powders and bullets. After many testing sessions, I have developed a very accurate load for this rifle with consistent groups of less than a minute of angle. I have never before achieved this degree of accuracy from a muzzle-loader. I personally feel the use of your loading tool greatly influenced the degree of accuracy I was able to obtain.
As any rifle bench rest shooter knows, a bullet has to be centered in the bore or accuracy greatly diminishes. A ramrod with a standard seating jag cannot obtain this concentricity.
The Gunn Innovations loading tool most certainly promotes accuracy
Art Seaman - Black Powder Sportsman
---
Shooting Groups Of Less Than 1" Using SpinJag
Using the SpinJag I have recently shot a 5 shot 65 yard group @ 7/8" and a 3 shot 100 yard @ 5/8". In the future, under ideal conditions I intend to do better than that.
P.S. I have a SpinJag on hunting ramrods for both of my guns
Joe Delaney - Black Powder Sportsman
---
Saw Improvement In Accuracy With First Use Of The SpinJag
Just wanted to let you know that in using the SpinJag for the first time I was shooting my best ever. At 75 yards I'm shooting groups less that one inch in diameter
Hunter White - Black Powder Sportsman
---
SpinJag Helps Older Gun Shoot Better Than Ever
I shoot an old 50 cal. Hawken. I have updated everything on the gun (new modified barrel for shooting sabots, tall Creedmore sites) and still the gun does not group.
On using your SpinJag, I have shot 3 and 4-inch groups at 100 yards. This is the best the gun has ever done.
Richard Brown - Black Powder Sportsman
---
Very Pleased With Results Using SpinJag
Thanks very much for a great product and great service. It works great!
John Boersema - Black Powder Sportsman
---
Pleasantly Surprised With SpinJag
Received the SpinJag this date. Was more than pleasantly surprised.
David L. Reckling - Black Powder Sportsman