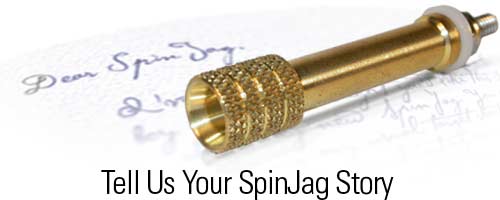 If Your Story Is Picked,
You Could Win A Free SpinJag!
We hear from sportsmen all over about how the SpinJag has affected them. Send us your story and you could win a gift certificate good for SpinJag products. Winners are selected monthly. All entries property of Gunn Innovations.
---
Just received my new, and very first, Spin Jag and GiRAMROD.
WOW!!!!!
I thought I was getting my black powder rifle clean before this. What a lesson in humility. No other jag or patch loop can hold a candle to the Spin Jags ability. I used fewer patches and less solution and got better results.
It is extremely gratifying to find a product that actually performs BETTER than advertised. And it's American made!!
I am indebted to Gunn Innovations.

St. Charles, MO
---
My Rifle loaded easier & showed improved accuracy over the loader I have been using. Clean up was faster & easier.

Memphis, TN
---
Easily loads several different projectiles: stays in place better than any other loader or rods. Clean then load on range faster because tool changing is eliminated. Never buy another jag again. Hold patches perfectly.

Bridgeport, OH
---
I would recommend this product due to the difference it made in the cleaning of my muzzleloader. It removed fouling that was left behind from just using a brush and patch that I could not tell was still there.

Kirkwood, NY
---
I have used the SpinJag since they came on the market. The first time I used it I loved it. I own four muzzleloaders. I do a lot of shooting. It works so much better than the standard jags. It helps with a follow up shot in the woods. Goes down the barrel much faster and easier with fouled barrel. Works great for cleaning with its rotating head.

Chittenango, NY
---
I must say that comparing this jag to the standard fixed jag I found that it made the cleaning process easier. The spinning of the jag made it easier to push the cleaning patches through the barrel. That makes it worthwhile by itself. It also felt to ease the loading process as well. I use T/C Shockwave sabots so the design of the jag had no impact on the polymer tip.

Tucson, AZ
---
This is one of the best things to come along for muzzleloaders since the in line ignition. It was easily used and worked well. I took this to the range the day I received it. I could tell a difference right away with accuracy. Plus the ease of the cleaning without re-tightening the jag all the time.

South Bend, IN
---
Excellent Product! I like the way it grabs the rifling. No problem in seating any number of bullets I tried.

Dragoon, AZ
---
I would recommend the SpinJag 2-in-1 to any muzzleloader. The jag will seat just about any style bullet. The fact that the jag spins means it won't come loose as you are cleaning your muzzleloader barrels.

Rib Lake, WI
---
I highly recommend the SpinJag for its performance. It is 10 times better than the competition for the reason of when cleaning the gun; it spins with the rifling in the barrel to give the best cleaning possible. With the gun completely clean, the accuracy improves incredibly.

Branford, FL
---
There is only one word to describe the 2-in-1 SpinJag: "Outstanding"! Other jags and tools I have will be going in a drawer. I haven't seen anything better for loading your bullets, especially the new aero tips. For cleaning ease, "Sweet" is all I can say. My .50 Cal. barrel has never been cleaner. Actually saw where I had been missing a spot next to the rifling with my other jag!

Crofton, KY
---
I used the Spin Jag during an extended range session with my muzzleloader. I already like the way the SpinJag rotates when loading and cleaning. I'll never have to deal with a loading jag screwing off a ramrod now that I have the SpinJag. Clean up was quicker and easier due to the SpinJag's rotation.

Arnold, MD
---
SpinJag works great. I tried it on several muzzleloaders including CVA, Thompson, and Knight. It worked well in all of them. I plan on purchasing a couple more in different calibers. Gunn has designed an exceptional product.

Grand Rapids, MI
---
Anytime you have a product that can do 2 different things effectively, you need to add it to your must- have items

Trempealeau, WI
---
I tried several types of bullet and sabot designs and all loaded quicker and easier. The SpinJag also cleaned the rifling better than standard jags.

Buxton, NC
---
The SpinJag Family Of Tools...
---





The Original SpinJag




Consistently Loads A Variety Of Projectiles And Also Cleans Barrel

.32, .36, .40, .45, .50, .52, .54 and .58 caliber available




FREE SHIPPING on orders of $99 or more
---




SpinJag Loader




Minimum Clearance For Even More Precise, Consistent Loading And Seating Of Bullet

32, .36, .40, .45, .50, .52, and .54 calibers available




FREE SHIPPING on orders of $99 or more
---



SpinJag Bullet Starter




The First Step In Smoother, Easier More Precise Loading

.45, .50, .52, .54 calibers available
FREE SHIPPING on orders of $99 or more